Table of Contents
Volume 1: Rise of the Dragongirl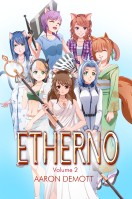 Volume 2: Catgirl Overload!
Chapter 30: Married, In a Hurry?
Chapter 31: Planet of Women
Chapter 32: Hide and Seek
Chapter 33: Not Dead Yet
Chapter 34: Go Big, or Go Home
Chapter 35: Here a Natas, There a Natas
Chapter 36: Morally Bankrupt
Chapter 37: The Beach? But It's Not Episode 7!
Chapter 38: Down and Dirty
Chapter 39: Let's Have Some Nun, This Game is Sick
Chapter 40: Get Back Here Right Meow!

Be notified when the next chapter comes out!